The Sécuridrap® Selfia®
Prevents falls for people with disorientation and / or low muscle tone while sleeping
in addition to the use of bed rails
Safety bed with class 1 medical device status
Securing: a thesis officially published in the Revue de Gériatrie (volume 36, N ° 3 March 2011 - p145)
Almost 15,000 patients already sleep in the Sécuridrap® Selfia®
Secure patient sleep
The Sécuridrap® Selfia® is a safety bed to prevent falls by disoriented people during their sleep. It is designed to guarantee comfort and freedom of movement : the patient can sleep in all natural positions.
The Sécuridrap® Selfia® was designed and evaluated in a geriatric setting.
The Sécuridrap® Selfia® is a class I Medical Device . To certify its compliance with health and safety requirements, it is CE marked according to directive 93/42 / EEC. It is a medical prescription for restraint equipment.
Before using the new Sécuridrap® Selfia®, please read the downloadable instructions included with each product.
READ THE SECURIDRAP SELFIA NOTICE
Facilitate the work of caregivers
The Sécuridrap® Selfia® was developed from research on the ergonomics of Selfia® clothing intended for people with loss of mobility.
It has become an essential support for Geriatric professionals who are integrating it more and more into their treatment protocols.
Its benefits for the patient and the medical profession are multiple:
the Sécuridrap® Selfia® prevents the patient from falling at night, the patient remains comfortably installed
it limits incessant undressing thanks to the complete openings and allows access to care , particularly for changing incontinence protections. There are no painful movements
it allows the patient to get into all natural sleeping positions while keeping the medical bed made and comfortable
it facilitates the installation of subcutaneous infusion or probe thanks to the perforations on each side at the level of the waist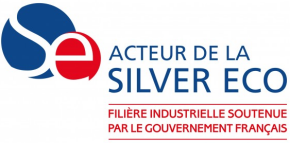 Numerous improvements and suitability for use reports have been carried out on our Sécuridrap® Selfia® medical device, once again allowing it to be used in healthcare establishments in complete safety. Very concrete changes have been made to improve the safety of use:
affixing of specific markings aimed at guiding the user and reminding him of the safety rules
installation of a closing system at the foot of the device (attachment point located at the lower end of the bed)
explanatory video as well as a very detailed manual
The installation of a patient in a SÉCURIDRAP® SELFIA® must be carried out by nursing staff familiar with the safety rules specific to the use of the product. Training is provided for the very first delivery of SÉCURIDRAP® SELFIA® to an establishment, and then on request.